Saint Thomas University School of Law Student, Domenick Lazzara describes his experience at the legal clinic:
"This weekend I had the opportunity to work with Lawyers to the Rescue at the Camillus House in Miami, Florida. While I had been invited many times by Mr. Aronfeld, I always had a prior-commitment. I can now say that the experience was well worth the wait. It is difficult to find the words to summarize how rewarding it is to use God's blessings for the good of others. This included helping a family law attorney counsel a recovering addict in his quest to gain paternity of his daughter, serving food and water to the hungry and underprivileged, and offering an endless amount of smiles.
The most surprising aspect of this experience was the gratefulness of the people I served. It changed my traditional stereotypes of the homeless man "bothering" me on the corner asking for change. And more importantly, experiencing this in the company of successful attorneys was important for me to see. As a third year law student, it is encouraging to know that there are those amongst my soon to be profession that generally care about the world and the lawyer's invaluable place in it. Thank you for the experience, I look forward to the next gathering.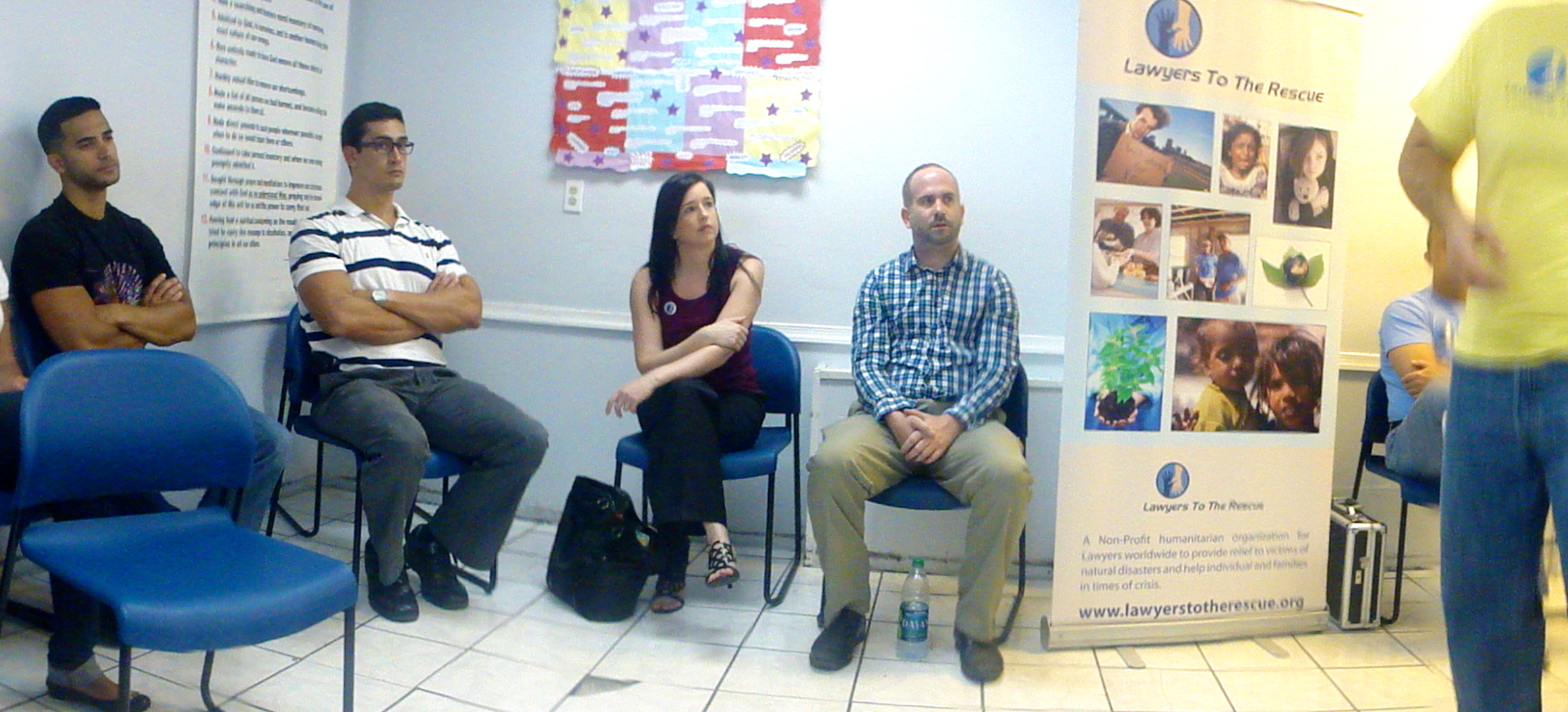 (From the right to left Seth Goodstein, Alice Férot , Domenick Lazzara and a new Florida International Student volunteer at the legal clinic orientation.)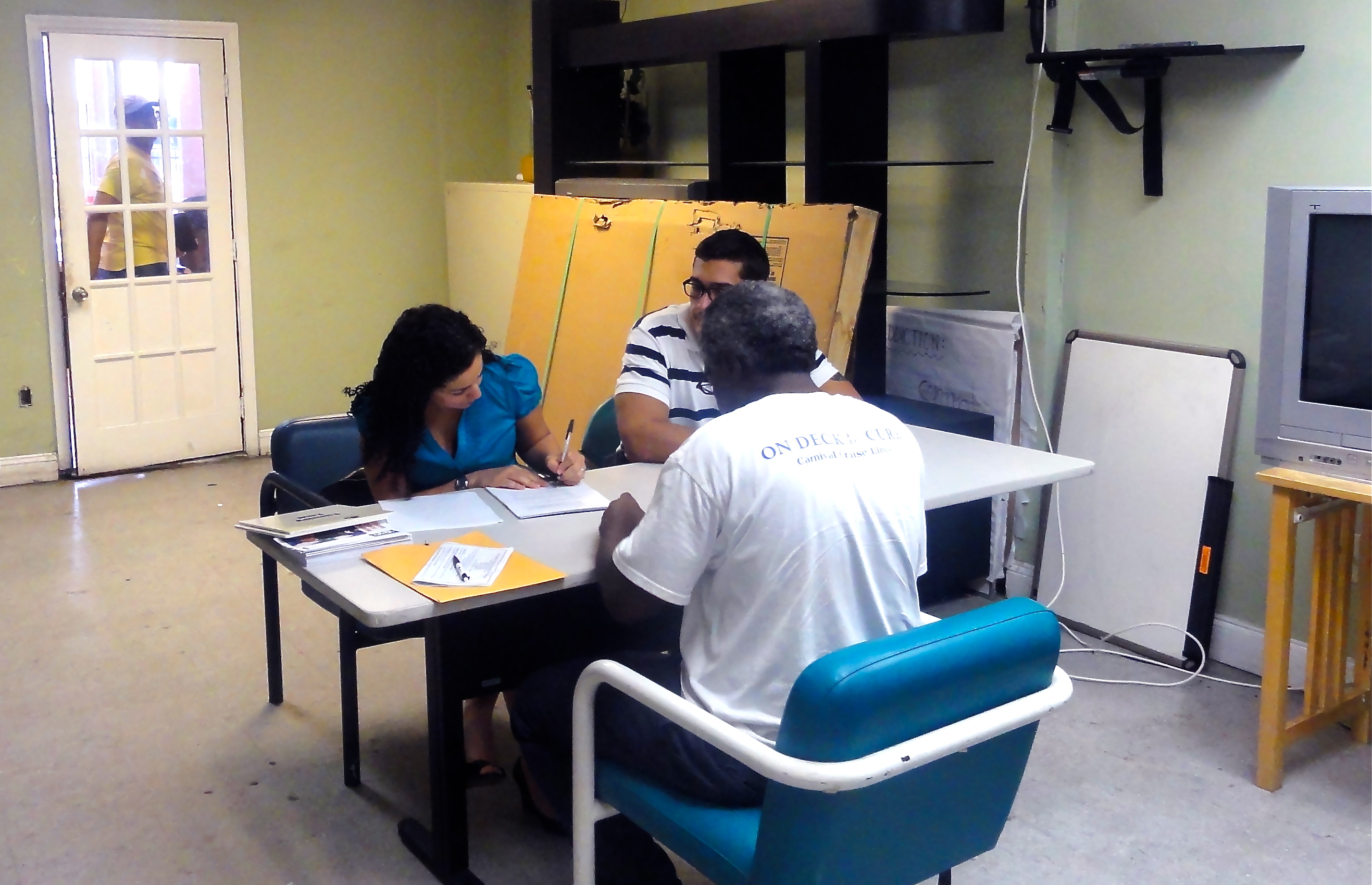 {Attorney Huda Ajlani Macri with Domenick Lazzara meeting with one of the clients at Camillus House)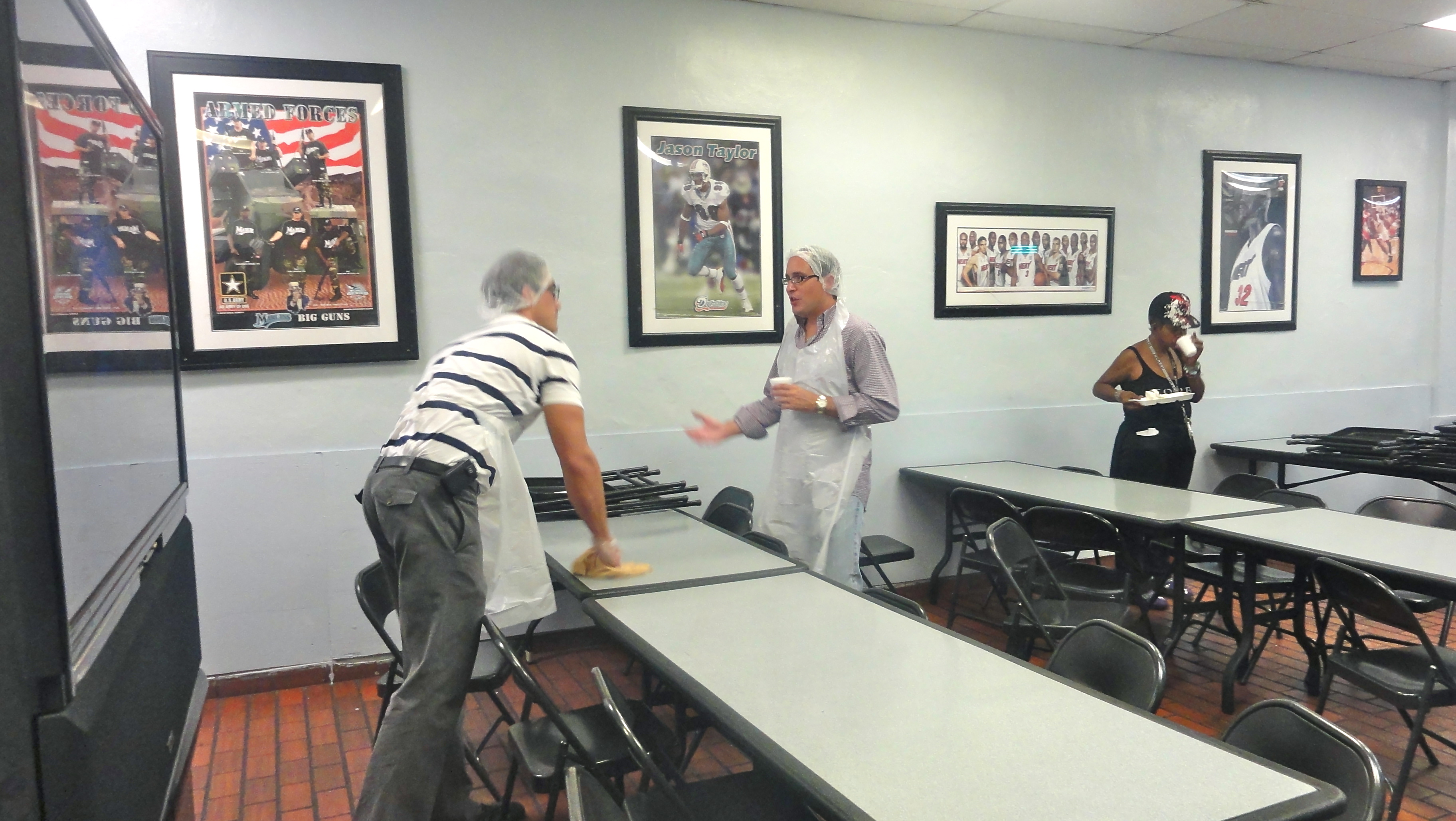 (Domenick Lazzara and Attorney Pelayo Duran setting up the cafeteria dinner tables while discussing legal issues facing some of the clients at Camillus House's)
Seth Goodstein, a third year law student at Saint Thomas University School of Law wrote the following regarding his visit to Camillus House:
"I am a third year student at Saint Thomas University School of Law. Within moments of arriving at the Lawyers to the Rescue event at Camillus House, I began screening individuals seeking legal assistance and observing counseling sessions. I greatly appreciate the opportunity to partake in this event. Exposure to extremely competent professionals with such high levels of dedication to community outreach both inspires and provides valuable perspective to the study and commercial practice of law. As well, this event greatly and invaluably enhanced legal common sense by exposing participants to an onslaught of varied legal problems and questions."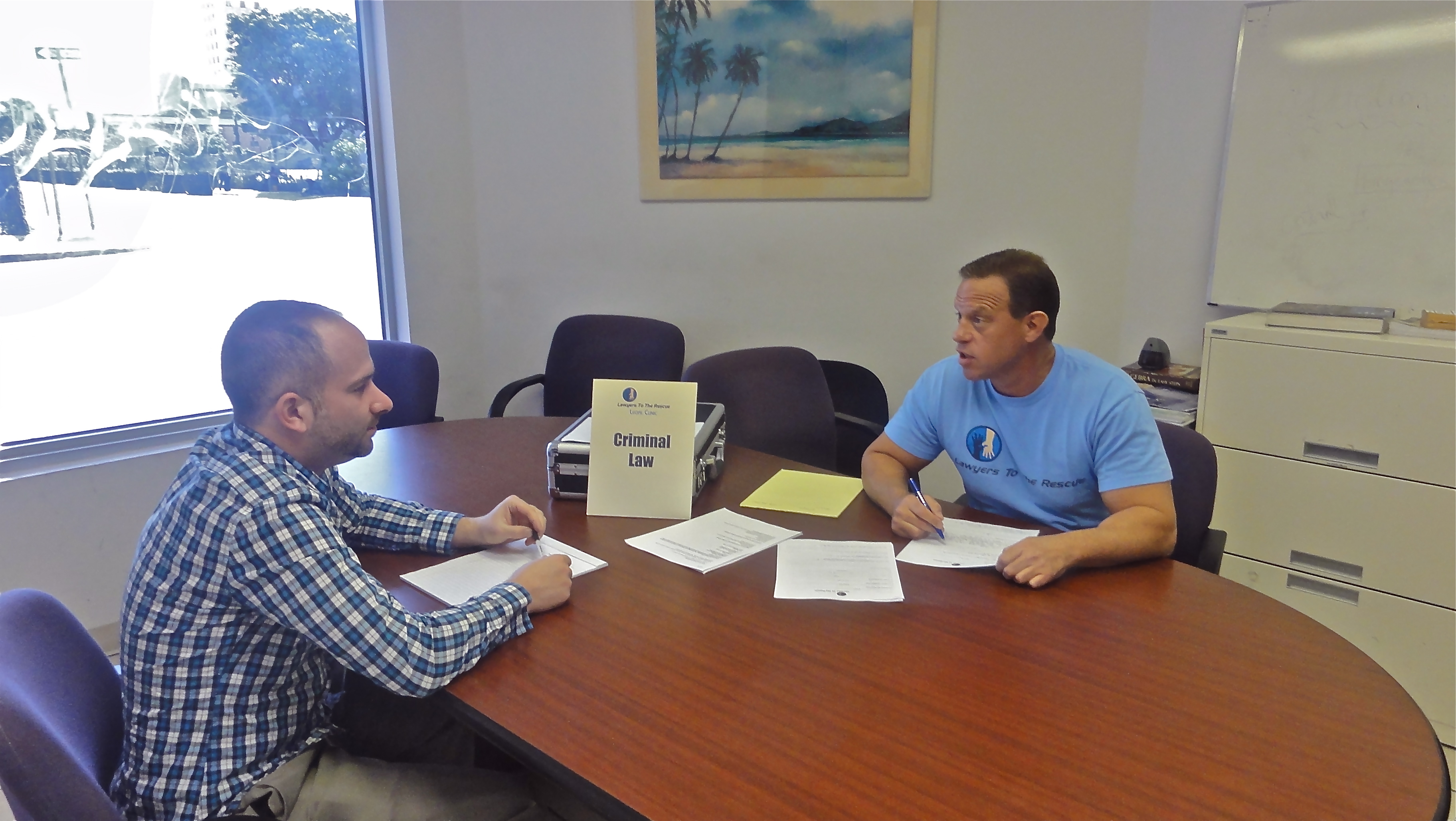 (Criminal Law Attorney Scott Kotler talking with Seth Goodstein at the Legal Clinic)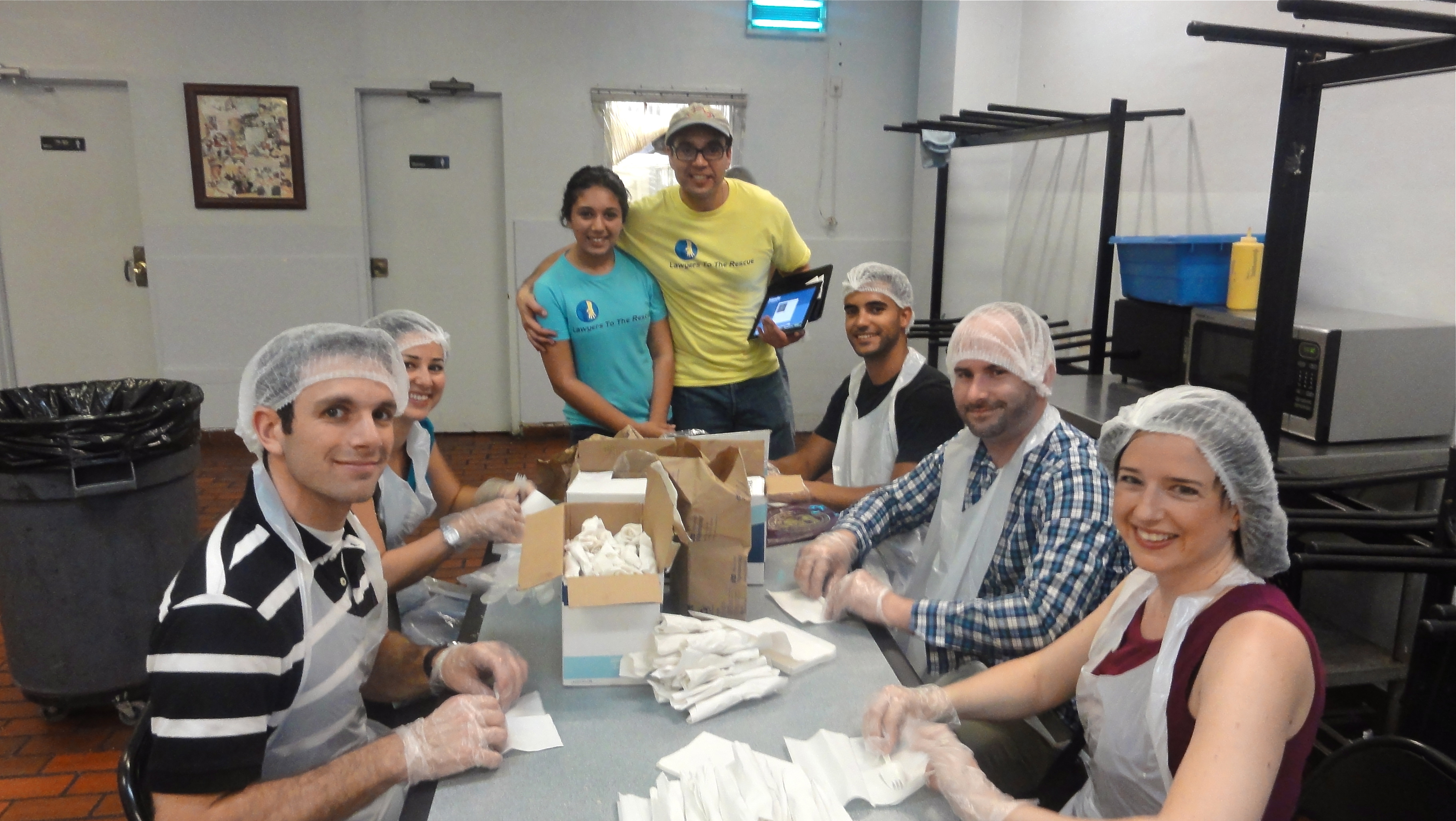 (Member of Lawyers to the Rescue volunteering at Camillus House Cafeteria)